Heat Sealed Life Preserver (shown at right)
Heat Sealed Life Preserver made of a polyurethane coated fabric with oral and manual inflation devices is easy to inflate, compact, and light weight.  Designed to be worn around the neck.  They are available in single-chamber and double-chamber style in optional colors. Tested to Government Specs.  Industries: Airline, Commercial Boating, Pleasure Boating
Available at Bass Pro Shops and other fine sporting goods stores.
Life Vest - Life Preserver (LPU-10/P, LPU-3/P, MIL-SPEC, #MIL-L-38484) (as shown below)
Fluorescent orange neoprene coated fabric, oral and co2 inflation, encased in sage green neoprene coated fabric cases.  This life preserver consists of two separate inflatable chambers or cells that inflate independently with a jerk to inflate tab. Once the tab is pulled, cells eject from their case and inflate within seconds. Each cell is independently inflated.  Designed to fit underarm, cells are joined by a common harness that is durable enough to support survivor air-lift from the water.  Tested to Government specifications. Fluorescent orange for visibility.
Industries: Divers, Export, Boaters, Fishermen

Buships Vest  (shown at right) 
(#MIL-L-15581 in Style K - with reflective tape OR Style J - w/o reflective tape) Neoprene coated fabric with aluminum waist buckles, webbing harness, and optional reflective tape.  This Navy Life Preserver with cemented type construction, co2 and oral inflation offers durability, versatility, and a wide adjustable belt.  Both styles available in orange or gray.  We've been manufacturing this vest for over 40 years.  Industries: Export, Fishermen,  Boaters 
UDT Life Preserver (#MIL-L-16383G)  (not shown)
Sturdy neoprene coated fabric, co2 and oral inflation, webbing harness, and non-magnetic inflation system.  Cylinders not included.  Available in three colors: orange, gray, or green.  Worn around the neck.  Industries: Boaters, Fishermen, Divers working in proximity of land mines
Survival Tent  (as shown below)
The tent has a custom-made tube frame constructed of durable neoprene coated black fabric.  This frame supports a polyester/neoprene coated off white or tan fabric canopy that is Mine Safety and Health Administration (MSHA) approved*. The custom inflatable tubes form a structure that maintains the shape and integrity for the tent cover.  These survival tents provide breathable air for up to 96 hours in event of a disaster.  They feature inflate/deflate valves, pressure relief valves, air-tight zippered doors, waste bag, and a reliable area for emergency storage of food & water.  Available in sizes from 16-man to 36-man. Industries: Mines, Bomb Shelters, Subway Systems, Disaster Events (natural or terrorist)  *Yellow canopies are not MSHA approved.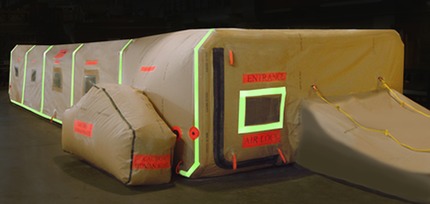 Bridge Pontoon  (as shown below)
These portable bridge tubes are made from the heaviest coated neoprene fabric available. Grommeted side panels allow you to securely lace these tubes together to form the desired size bridge.  Metal decking is then applied to the top of the tube for secure travel. Tubes measure 21' in length with a 3' diameter.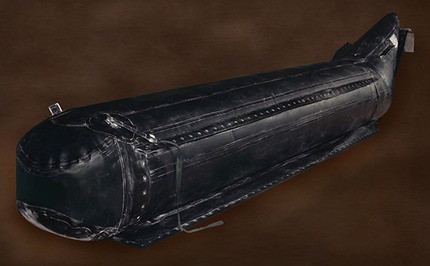 Boat Bumper  (shown at right) 
Boat bumpers protect a vessel from pier damage. Ours are manufactured from heavy duty PVC coated fabric. An inflation tube and valve with separate cover help eliminate tube abrading friction.  Adjustable bumper straps are included.  Available in a variety of lengths, diameters, and colors.
Spill Basins  (as shown below)
Inflatable walls constructed of black or orange polyurethane coated fabric with internal foam wall inserts.  Designed to collect oil spills under train cars or large pieces of equipment.  Basins are small, easy to use, and fold for easy storage or transport.  Customize with your company logo  Industries: Hazmat Contractors, Railways, Construction Companies, Contractors, Industrial